🐾 Mylee and Hero's Pups 🐾
Medium/Standard Multi-Generation Goldendoodles
Born January 6
Text 801-726-9772 for Prices
Glacia
Glacia is our only black-and-white parti girl from this litter! Such a cutie! Glacia is a confident little girl, playful and fun. She is very inquisitive and likes to explore whatever is new. She is eager to please and super smart. She should keep her deep black spots and not fade at all. This sweet pup should also be non-shedding! Her expected adult weight will be around 38 pounds.
Brisk
Brisk is the most adorable of the litter, at least in my opinion. He has a snowy white coat with the cutest deep red patches! Brisk has a fun, playful disposition and is super smart and eager to please! He has a great Goldendoodle temperament. Brisk should be non-fading and non-shedding! His expected adult weight will be around 35 to 38 pounds
Cloudy
Cloudy is our only adorable black-and-white parti-colored male pup, from this litter! He is super sweet and has a pleasant, easy-going disposition. This little boy will keep his beautiful deep coloring. He should be non-fading and non-shedding! Cloudy is the largest pup from this litter and should be 40 to 45 pounds as an adult.
Many poodle mixes lose their coloring with age–they fade. But neither of these parents have faded at all! The puppies' father, Hero, has double furnishings genes. The strongest non-shedding genes combined with their non-shedding mother means there should be no shedding at all from these pups! They should be hypoallergenic, great for allergy sufferers!
All of our puppies are raised with young children. They're loved and well socialized.
Their dew claws ahve been removed.
They will begin crate training at 5 weeks old.
Puppies will be up to date on shots and have frequent de-wormings.
Our puppies receive early neurological stimulation, which helps strengthen their cardiovascular system and resistance to stress. They also receive early scent recognition, which helps them to be more confident. It's very beneficial if you want a tracking or service dog.
The apricot or white pups will darken with age, as did Mylee's previous litter. Hero also darkened with age.
These beautiful pups will be a medium/moyen to standard size, averaging around 38 pounds as adults.
Get your $300.00, non-refundable deposit in now for the best selection. We can deliver within the Utah area and out of state or even meet you at the SLC airport. We accept Venmo, PayPal, or cash.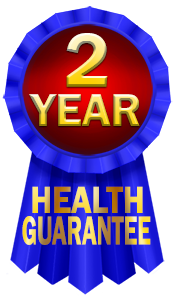 All our parents are health tested and all puppies come with a two-year health guarantee!
For more information or to place a deposit, please call or text
Diane (801-726-9772) or email her using the form below.
Mom
Mylee is a fun, playful, smart F1bb Goldendoodle. She weighs 45 pounds and is 24 inches high. Mylee has a beautiful deep black coloring, that hasn't faded at all, with her snowy white background. She doesn't shed and is fully health tested and clear of genetic diseases. She is a great momma and a beloved family member!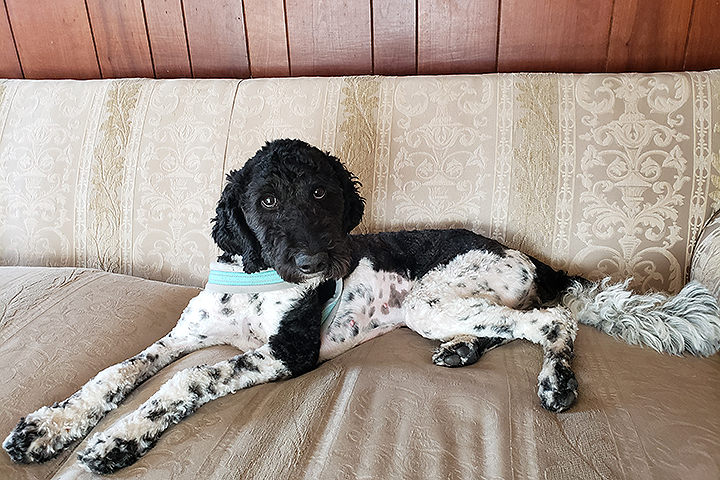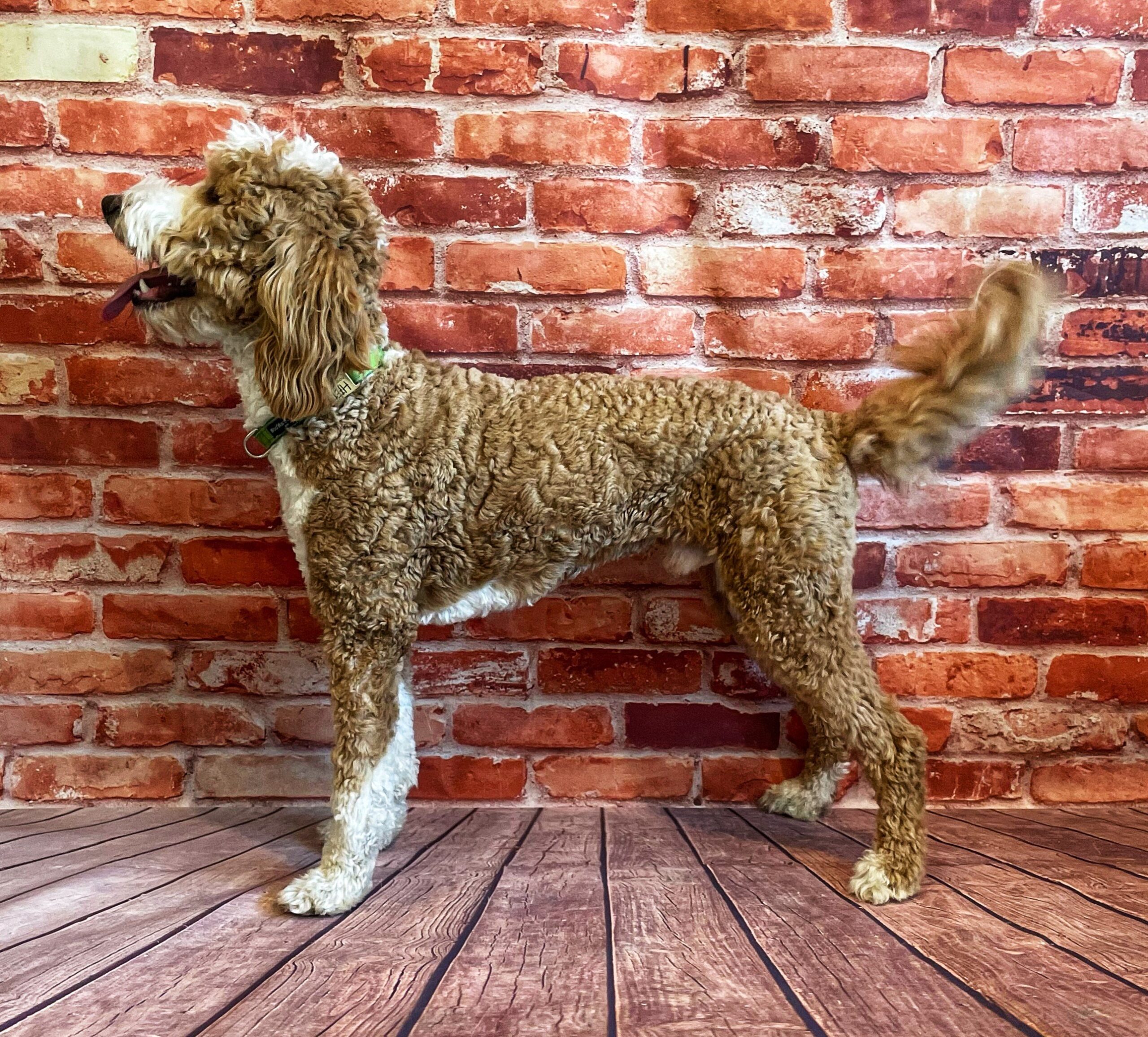 Dad
Hero is a Multi-generation Goldendoodle with a soft fleece-like, wavey coat. His beautiful Honey/Apricot coloring has intensified with age and not faded as many poodle mixes do. He is fully furnished and does not shed. Hero is a fun, confident, playful and affectionate boy! He weighs 31 pounds and is 18 inches high. Hero has been health tested.